Tuesday & Thursday On-Campus Schedule
9:30 -10:40 am
11:00 am - 12:10 pm
Thursday Online Schedule
9:30 a.m. – 10:40 a.m.
11:00 a.m. – 12:10 p.m.
1:00 p.m. – 2:10 p.m.
2:40 p.m. – 3:50 p.m.
As a UT OLLI LAMP member, an illustration of the weekly schedule is provided in the chart above. You will have the choice: for both in-person or 'select' livestreamed classes each Tuesday and Thursday while in session. The rest of the week you will have 8 optional livestreamed classes that can also be joined with registration. Livestreamed classes will be recorded and posted on the OLLI Homepage for on-demand viewing.
Our Members
UT OLLI LAMP (Learning Activities for Mature People) welcomes all senior adults who want to engage in lifelong learning in a group setting. With members from every profession and life path, UT OLLI LAMP offers a lively forum where our members meet to share interests and cultivate new friendships while expanding their knowledge. Social activities are an integral part of the UT OLLI LAMP experience as well, and we believe that having fun is vital to the learning process.
With the support of UT OLLI program staff, UT OLLI LAMP members plan, organize and execute the primary mission and functions of the group. A large contingent of members volunteer their time and talents to create a flexible and responsive learning environment.
The new "Diversity & ME" initiative seeks to open and enrich our understanding of the world around us by including a broader community of lifelong learners. The initiative's focus centers on engaging those with different perspectives and experiences who may be missing or under-represented among our UT OLLI LAMP members.
Curriculum
UT OLLI LAMP presents lectures during three, six-week terms in the fall, winter and spring. One hour-long lectures, each followed by a 10-minute moderated Q&A session, are scheduled on Tuesday and Thursday mornings. Sometimes the Curriculum Committee will present a reoccurring seminar in place of one of the lectures that explores a specific, single subject over the course of the six-week term to offer members an in-depth look at a topic.
Lectures Schedule: Tuesday and Thursday
9:30AM - 10:40AM – First lecture with moderated Q&A session
10:40AM - 11:00AM – Break between lectures
11:00AM - 12:10PM – Second lecture with moderated Q&A session
UT OLLI LAMP's morning lectures schedule provides unique flexibility for members. Each lecture is independent, allowing members to tailor attendance based on their interests and schedules. Experts from a variety of professions and backgrounds share their knowledge of the world through lectures focused on one of six topic areas: Public Affairs, Lifestyles, Science and Technology, the Creative World, History and Business.
Before the start of each term, members receive a detailed schedule with descriptions of the lectures, seminars and speakers, to help them mark their calendars. 
Speakers are identified and invited by the group. One week, UT OLLI LAMP members may hear from a composer, historian, educator or talk show host. Another week might bring a sommelier, journalist, archeologist, ornithologist, elected official, physician or entrepreneur. Authors and artists, legislators and coaches, museum curators and chefs, gardeners and astrophysicists are among the many folks you may meet at UT OLLI LAMP.
Extras
All extracurricular activities are optional and may require an additional cost. Tour a museum or art foundry. Discuss a book or current event. Trek through a preserve or ride a steam train. Socialize over dinner or drinks. Stay connected online. UT OLLI LAMP offers its members a broad array of optional activities arranged through the group's network of volunteers. All UT OLLI LAMP members are invited to participate in the Monday Morning Discussion Group, the UT OLLI LAMP Book Discussion Group, tours and field trips and social events that include Dinner by LAMPlight and happy hours.
As part of its outreach activities and in recognition of the benefits of education, UT OLLI LAMP gives up to five scholarships a year to UT Austin students who plan to become teachers through its Cecil and Margie Hale Endowed Presidential Scholarship Fund.
UT OLLI LAMP members connect through the LAMPlighter, a member-produced newsletter; and with an annual membership directory. In addition, volunteer greeters welcome members to the morning lectures and provide information on upcoming activities. Another volunteer group provides summaries of the lectures. The Facebook Group, "UT OLLI LAMP Social SIG," is designed to help facilitate other social activities.
Additional Information
UT OLLI LAMP membership fees are paid annually and include all costs and assessments except optional activities, excursions and meetups.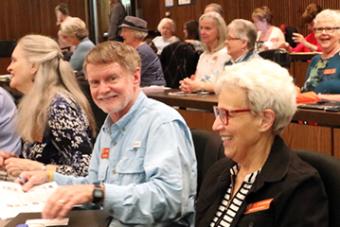 UT OLLI LAMP members attend the first day of Spring 2018 session.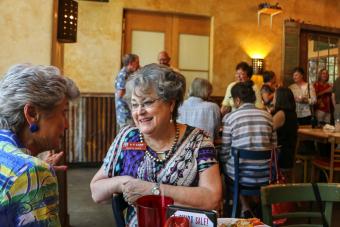 One of UT OLLI LAMP's monthly happy hour socials.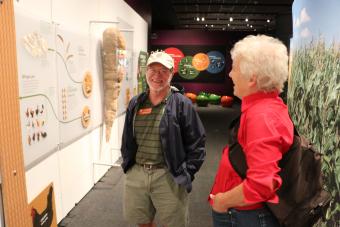 UT OLLI LAMP tours the Bob Bullock Texas State History Museum.