Tuesday & Thursday On-Campus Schedule
1:00 - 2:10 pm
2:40 - 3:50 pm
Monday-Friday Online Schedule
9:30 -10:40 am
and
1:00 - 2:10 pm
As a UT OLLI QUEST member, an illustration of the weekly schedule is provided in the chart above. You will have the choice: for both in-person or 'select' livestreamed classes each Tuesday and Thursday while in session. The rest of the week you will have 8 optional livestreamed classes that can also be joined with registration. Livestreamed classes will be recorded and posted on the OLLI Homepage for on-demand viewing.
Our Members
UT OLLI QUEST is a member-driven program offering an opportunity for lifelong learning in a university setting. As a diverse community of adult learners eager to share life experiences and participate in intellectual exchanges, UT OLLI QUEST members are invited to participate in the planning of the program's lectures, seminars, and social events, along with assistance and support from the UT OLLI program staff.
Curriculum
UT OLLI QUEST offers three six-week sessions a year that meet on Tuesdays, 1:00-3:50PM., for two lectures; and Thursdays, 1:00-3:50PM., for two seminars. Instructors include UT Austin faculty, scholars, and local experts, in addition to our own UT OLLI QUEST members who have a particular interest in and knowledge of a myriad of topics.
Tuesday Lectures Schedule
1:00PM - 2:10PM – First lecture
2:10PM - 2:40PM – Break
2:40PM - 3:50PM – Second lecture
Thursday Seminars Schedule
1:00PM - 2:10PM – First seminar
2:10PM - 2:40PM – Break
2:40PM - 3:50PM – Second seminar
Prior to the start of each session, members have a choice of signing up for two seminars ranging in topic from science, history, politics and current events to the arts, religion and technology. Members are asked to indicate their first, second, and third seminar preferences. Recent seminar topics have included:
Circling Central Texas: History, Myths and Good Tales
Into the Vast Unknown: Pacific Ocean Navigators
Fake News/Fake Democracy: The Crisis of Journalism and Politics
Geology of Mountain Building in the National Parks
India and Its Diversity
Off to the Movies: The History of Film Exhibition in the U.S.
Extras
UT OLLI QUEST is unique among other programs because they have member-planned travel opportunities. They've traveled to San Miguel de Allende, Mexico; New Orleans, Louisiana; and Southeast Asia in Summer 2019.
Check out a photo-compilation video of UT OLLI QUEST's Portland, Oregan trip in September 2018!
All extracurricular activities are optional and require an additional, though nominal, cost. Independent special-interest groups (SIGs) are sometimes formed by members who decide to meet off-campus and outside regular program curriculum.
UT OLLI QUEST members enjoy happy hours at local venues following Thursday seminars—a great way to get to know fellow members. Also offered are day trips and excursions in Austin and Texas, as well as end-of-session socials.
Additional Information
UT OLLI QUEST membership fees are paid annually and include all costs and assessments with the exception of optional excursions and social functions.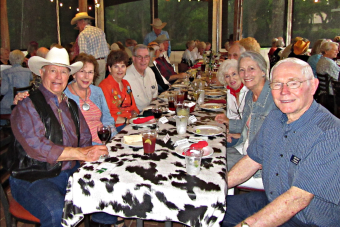 UT OLLI QUEST end-of-session dinner at the County Line.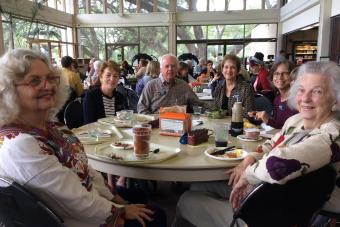 UT OLLI QUEST new member Dutch Treat Lunch at the Under The Oaks Café.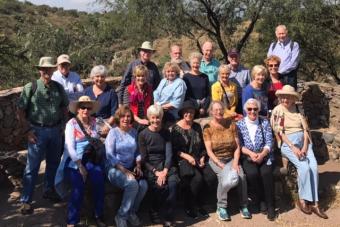 UT OLLI QUEST Winter 2017 trip to San Miguel de Allende.