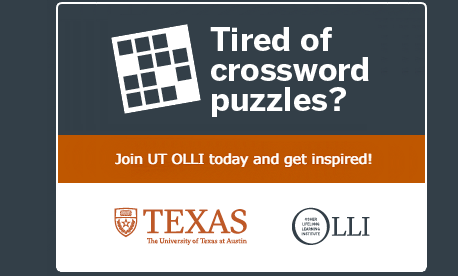 We are both On-Campus and Online!
UT OLLI offers engaging and thought provoking content for the 2022-2023 program year. Three ways to participate:
Attend classes on university campus with peers at the Thompson Conference Center.
Watch online and submit questions during select livestreamed presentations.
View select on-demand recordings at your leisure.
Learn more about UT OLLI!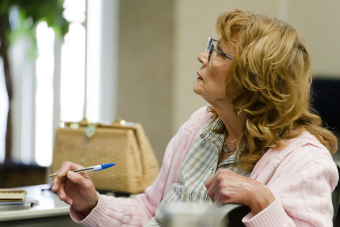 UT OLLI offers a diverse array of intellectually stimulating, non-credit, college-level lectures, seminars, and experiential opportunities.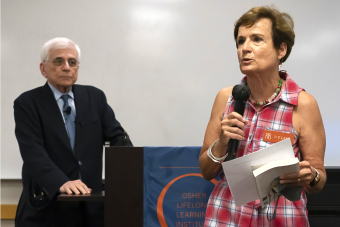 Taught by university and community experts and developed in partnership by peer and staff leadership.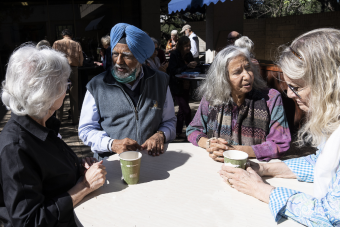 Participation fosters meaningful exchange and engenders a global perspective through learning and volunteer engagement.
WHY UT OLLI IS FOR YOU
"Brain Health"
 
Are you tired of crossword puzzles? Do you want to live longer? Of course, but not only do you want to extend your years on earth, you want to live well! Universally, living well means maintaining our ability to problem solve and make decisions about our own well-being, remaining adaptable, staying mentally engaged and doing whatever brings us joy. We all know that eating wisely, drinking in moderation and exercising are part of the equation. But what about brain health?
Research shows that our brains are amazingly adaptive and resilient if stretched and worked, much like our muscles. With regular mental stimulation, we develop new synapses, improving our "cognitive life expectancy" — how long we live with good versus declining brain health. How is this done? It's easier than you may think. You can improve your cognitive life expectancy by breaking out of your usual routine, remaining curious and engaging with new ideas, experiences, people and places. If you live in the Austin, or the greater Austin area, and are 50 or better you have access to a premier and nationally-recognized adult learning program right in the heart of the city on the edge of the UT campus.
Check out this promotional video featuring the best UT OLLI has to offer: our community, curriculum, and the joy of learning with likeminded people.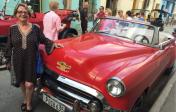 Embracing a healthy lifestyle doesn't just mean being mindful of diet and exercise. Another important facet of wellness is proactively looking after our brain health. Our brains are like muscles, adaptive and resilient when stretched and worked. And with regular mental stimulation, we can improve our cognitive life expectancy — the length of time we live with good vs. declining brain health. The best way to do this: is by exploring new ideas, and new experiences and remaining engaged in a supportive community. The University of Texas at Austin offers older adults an opportunity to do exactly that.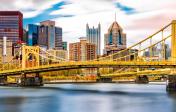 Hope to blow out 100 birthday candles? "I would argue that the biggest impact on how long you live is where you live," says National Geographic Fellow Dan Buettner, who has studied the world's longest-living people in "longevity hotspots" he calls Blue Zones. Among them: Sardinia, Italy; Okinawa, Japan; and Nicoya, Costa Rica. So where in the U.S. can you live to a really ripe old age? Check out the following article from Parade published in January 2020: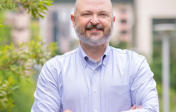 Dr. Jared Benge, a neuropsychologist in UT Health Austin's Comprehensive Memory Center, provides answers to the top 10 questions he is asked by patients in the clinical setting about the aging brain. "The six pillars of brain health are the six most important things that can really make a difference in your cognitive health," shares Dr. Benge. "And that means increasing your risk of avoiding cognitive impairment or dementia, or even reducing your risk of decline or slowing the process down."
"What You Can Do to Prevent Alzheimer's"
 
Alzheimer's doesn't have to be your brain's destiny, says neuroscientist and author of "Still Alice," Lisa Genova. She shares the latest science investigating the disease -- and some promising research on what each of us can do to build an Alzheimer's-resistant brain.
Check out her TED Talk >
A Taste of UT OLLI Online!
Professor H. W. Brands holds the Jack S. Blanton Sr. Chair in History at the University of Texas at Austin, where he earned his Ph.D. in history in 1985. He has authored 30 books on U.S. history and his works have twice been selected as finalists for the Pulitzer Prize.
Dr. Brands gave a timely, virtual lecture to UT OLLI on November 3rd during the Fall 2020 session when the program operated exclusively online.
Check it out! >