Winter 2022 Session

"Legacy of the Underground Railroad through Texas and into Mexico"
Roseann Bacha-Garza; Tuesday, February 1st @ 1:00–2:10PM CT
Like the more well-known Underground Railroad to the north, which helped fugitive slaves flee to Northern states and Canada, the path in the opposite direction provided a pathway to freedom south of the border, historians say. Enslaved people in the Deep South took this closer route through unforgiving forests, then desert with the help of Mexican Americans, German immigrants, and biracial Black and white couples living along the Rio Grande. Mexico had abolished slavery in 1829, a generation before President Abraham Lincoln's Emancipation Proclamation so slaves successfully crossing the river achieved freedom.  Many subsequently intermarried with local populations and moved deeper into Mexico.

"Global Challenges to our National Security "
Admiral Bobby Inman; Thursday, February 17th @ 9:30AM-10:40AM CT
Admiral Inman will speak about the global challenge to our national security within the framework of circumstances that exist at the time of the lecture. He is the former LBJ Centennial Chair in National Policy at the LBJ School and former Director of the National Security Agency. He served in the US Navy from 1951-1982.

"Next Steps for Social Justice and Advocacy"
Dr. Andrea Holman; Thursday, March 3rd @ 1:00PM-2:10PM CT
More information on this lecture TBD! Dr. Andrea Holman serves as an Associate Professor of Psychology at Huston-Tillotson University. She primarily teaches and conducts research related to race and racism. She also serves as a consultant for organizations who desire to enhance diversity, equity, inclusion and belonging practices.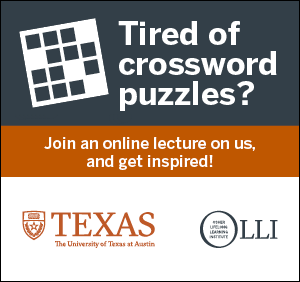 Check out the listing on this page for the latest selection of free lectures from UT OLLI.
They will be made available for sign-up one at a time prior to their scheduled date/time. You can sign-up at any time to add your name to our waiting list for the next free lecture posted.
Remember to sign-up to receive more information: