UT Olli Sage Enrichment Winter 2019
OVERVIEW
To join, please add your name to the prospective member list. When annual membership is open, you will be sent an email inviting you to become a member. Programs fill quickly and seats are limited, please plan on enrolling promptly once notified. UT OLLI is comprised of five programs. Annual membership includes three six week sessions. Each program boasts curriculum offerings that are academic in nature and cover an extensive range of subject areas. Membership also includes numerous occasions to participate in extra-curricular activities that include volunteering, field trips and social gatherings.
MEMBERSHIP REQUIREMENTS
UT OLLI is a membership-based lifelong learning program for adults 50 and 'better.' To become a member you must have an email address that is routinely checked for updates and timely information.
Many couples choose to participate in UT OLLI together. Preference to spouses of current members will be given for enrollment until the first day of the fall session. Please contact the UT OLLI Office at 512-471-3124 for more information.
SWITCHING PROGRAMS & TAKING SABBATICAL
Once you are a UT OLLI member, during renewal, current members may choose to renew their membership into any other UT OLLI program. Members may also choose to take a sabbatical year for a fee that ensures priority renewal in the next membership year.
PARKING
Parking is available in Lot 40 on the corner of Dean Keeton and Red River.
REFUNDS
Program Refunds: Annual membership fees may be refunded less a $35 administration fee any time before the first day of the fall session.
Event Refunds: Refunds may be provided up until the registration deadline for the pertinent event with a $10 processing fee accessed.
LECTURES VS. SEMINARS
A lecture is a one-time event on a topic of general interest given by one or several speakers. There is typically a 15-minute question and answer period at the end of each lecture.
A seminar is a course that meets weekly for six consecutive weeks. Seminars can have either a single speaker or multiple speakers who present on a single theme for the entire seminar series.
WHO ARE OUR MEMBERS?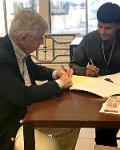 Chris Mabley
Chris Mabley grew up as the only child of a naval officer and lived in a number of places including Guantanamo Bay, Cuba, Stockholm, Sweden, and Frankfurt, Germany as well as several places in the United States before attending Cornell University where he majored in mathematics, played ice hockey, and rowed on the crew team. As he was on an NROTC scholarship to college, he served four years as a Marine Corps officer after graduation which included 13 months in Vietnam. While there, he was involved with air operations and the pacification program.
Chris met his wife, Jan, at Cornell and married in the fall following their graduation in 1965. She gave birth to their first child, a son, while Chris was in Vietnam. He resigned his commission in the fall of 1969 and began a career as a math teacher and school administrator at the secondary school level outside of Boston, MA. In 1983, he accepted a job as the Headmaster of an independent Episcopal high school in Austin. At the end of the 80's, he accepted an offer to be head of another school back in Massachusetts. Chris and Jan remained in the Boston area until 2006 when Chris stepped out of school administration. They returned to Austin to be near their children and grandchildren and returned full time to the classroom which is where Chris began his career in education. He taught for an additional ten years.
Chris enjoys being active and continue to row regularly although he gave up competitive racing three years ago. He and Jan, who is a psychotherapist, retired in the past three years and now spend a good deal of time with their children and five grandchildren who range in age from 9 to 18. Chris joined UT OLLI LAMP in 2016 and have been chair of the program's Diversity and ME committee that helps provide opportunities for LAMP to broaden its cultural horizons, diversify its membership base, and become a better reflection of the Austin community.
(Image: Chris Mabley tutoring a student at Huston-Tillotson University for an algebra exam.)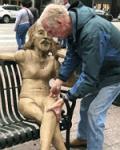 Bob Coffee
Bob Coffee is architect, craftsman, and sculptor. In the early 1970's, his architectural firm had state commissions by the Texas Parks and Wildlife Department to restore buildings at three Texas frontier cavalry forts built in the mid-1800s. They needed to reproduce some hardware for the projects, and Bob took it upon himself to cast and fabricate them by enrolling in a wax sculpture course at Laguna Gloria. That sparked his interest in sculpture.
Bob sculpts subjects he knows well-- animals, ranch life, horse racing, sports and whimsical figures— which also reflect his passion for western history. His first commission in 1978 was a courtyard statue of "Billy Goat's Gruff" for the Dallas Crippled Children's Center. Next in 1995 was a 3/4 life size statue of a ranger and horse for the "Lost Lawman Memorial" at the Texas Sheriffs' Association Building in Austin. Bob has been "up and coming" as a sculptor ever since. His work, shown coast to coast and in Saltillo, Mexico, is represented in galleries in Texas and New Mexico.
Bob has also bred and raced horses and now raises longhorn cattle as co-owner of the Travis Peak Ranch and has been active member of UT OLLI QUEST since 2007. In spring 2019, he and his wife, Gail, helped organize an official field trip to Marble Falls, TX in which members of the program could visit the Coffee Longhorn Ranch.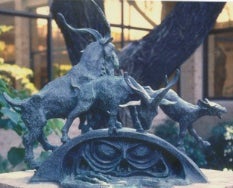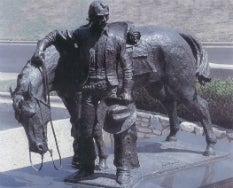 (Images: Bob Coffee with statue of Leslie, Austin's cross-dressing icon of weird, set to go on a bench on the NW corner of 6th and Congress once complete; "Billy Goat's Gruff"; and "Lost Lawman Memorial.")