Wednesday On-Campus Schedule
9:30 a.m. – 10:40 a.m.
11:00 a.m. – 12:10 p.m.
12:10 p.m. – 1:00 p.m. – Lunch
1:00 p.m. – 2:10 p.m.
Online Schedule
Wednesday: 11:00 a.m. – 12:10 p.m.
Thursday: 11:00 a.m. – 12:10 p.m.
& 1:00 p.m. – 2:10 p.m.
Friday: 11:00 a.m. – 12:10 p.m.
Our Members
UT OLLI NOVA members come to the program from a wide variety of professional backgrounds and with varied educational experiences and personal interests. Both long-time Texans and many of Austin's new residents are making the UT OLLI NOVA program part of their lives. Lifelong friendships are made here among a vibrant group of active, intellectually-curious individuals.
UT OLLI NOVA is a volunteer-driven organization, with dozens of opportunities for members to be active within the organization. Through volunteering on a seminar, lecture, and social committee, our members customize the program to make it relevant to the interests and passions of the group.
Curriculum
UT OLLI NOVA holds three six-week sessions each year in the fall, winter and spring. UT OLLI NOVA sessions are conducted at the Thompson Conference Center (TCC).
Wednesday Sessions Schedule
9:30 a.m. – 10:40 a.m.
11:00 a.m. – 12:10 p.m.
12:10 p.m. – 1:00 p.m. – Lunch
1:00 p.m. – 2:10 p.m.
Livestreamed Schedule
*Will be recorded
One of the Wednesday's 11:00 a.m. classes will be hybrid in which UT OLLI NOVA members can attend in-person or remotely.
Attend online-exclusive classes offered on Thursdays at: 11:00 a.m.-12:10 p.m. and 1:00 p.m. – 2:10 p. m.
Remotely attend a class on Fridays at 11:00 a.m.-12:10 p.m.
Seminars and lectures cover a large number of widely diverse topics. Sometimes choosing which to attend is difficult, as there are many engaging and relevant seminars offered. Many are taught by UT faculty or other local experts in a variety of subjects. Curriculum topics are centered on the arts, architecture, business, history, and science, as well as engaging areas of interest such as water conservation, political elections, and U.S. Supreme Court decisions. The wide variety of topics is limited only by the curiosity of our members.
Extras
Although UT OLLI NOVA provides an extensive learning experience, it also provides the backdrop for a variety of social activities for members. We believe that social interaction and friendship building are among the greatest benefits of this interactive program.
All extracurricular activities are optional and require an additional, though nominal, cost.

Field Trips
During each of the three sessions each program year, special field trips are planned to local and out-of-town sites. Many field trips are designed to enhance learning from lectures and seminars while others are planned to explore the many historic sites in the Central Texas area, as well as local museums, art galleries, and musical venues. There is something for every interest.

Special Interest Groups
UT OLLI NOVA has several special interest groups (SIGs) made up of members with common interests. The range of possibilities is extensive. Our robust UT OLLI NOVA book club meets each month to discuss the latest new books and classic reads. Our happy hour group checks out all the latest restaurant and drinking establishments. "The Play's the Thing Group" attends theatrical productions, and our "Exploring Austin Group" visits intriguing art and cultural venues that make Austin such a great place to live.

End-of-Session Socials
At the end of each six-week session, UT OLLI NOVA members gather at one of Austin's wide variety of excellent restaurants to honor our seminar directors and to have some fun with UT OLLI NOVA friends. Venues have ranged from barbecue at the County Line to upscale dining at The Headliner's Club. One social each year is planned as a luncheon to accommodate members who do not drive in the evening. We have held luncheons at several Austin country club locations and historic dining venues such as the Austin Woman's Club, Chateau Bellevue.
Additional Information
UT OLLI NOVA membership fees are paid annually and include all costs and assessments except optional excursions and meetups.
Welcoming committee at UT OLLI NOVA's 19-20 New Member Orientation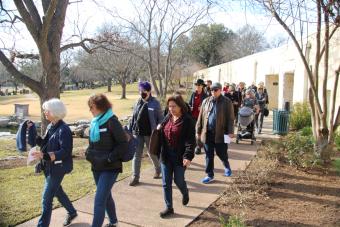 Texas State Cemetery Field Trip in March of 2022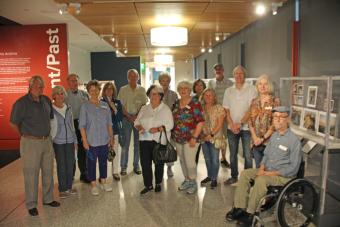 Field trip to view the Robert Polidori photograph exhibit at the Briscoe Center in April of 2022